NEWS
Grammy winning Kelly Rowland and The-Dream announce 'The Lights Out Tour'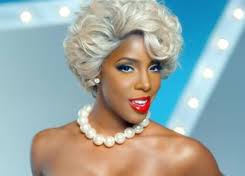 (New York, NY) - Multi-Grammy Award winning artists Kelly Rowland and The-Dream have teamed up to co-headline "The Lights Out Tour." Stopping in major cities across the United States and Canada, which includes New York, Atlanta, Los Angeles, Chicago, Dallas, Toronto and more, the two will be performing various fan favorites as well as new music off their highly anticipated albums. This tour will mark the first time that both artists have been on the road together performing for adoring fans.
Republic Records' Grammy Award-winning multiplatinum R&B icon Kell;y Rowland remains one of the 21st century's foremost female superstars. Her fourth full-length solo album, "Talk A Good Game," hits stores on June 18, 2013 and it's propelled by the steaming, sexy smash "Kisses Down Low" (available on iTunes). The highly anticipated album also features Wiz Khalifa, Pusha T, Destiny's Child sisters Beyoncé and Michelle Williams, as well as production by The-Dream, Mike Will, Pharrell, Harmony, The Runners and more.
Radio Killa/Def Jam recording artist and four-time Grammy Award-winning scribe The-Dream is set to arouse music enthusiasts with his fifth album "IV PLAY," scheduled to be released on May 28th and will feature Jay-Z, Beyoncé, Big Sean, Fabolous, 2 Chainz, Gary Clark Jr. and Kelly Rowland. His current single "IV Play" (currently available on iTunes) has taken the internet by storm and has been referred to by Spin.com as "the-dreamiest The-Dream song we've yet to hear." While putting the finishing touches on his new album, The-Dream is also in the studio working with Jay-Z, Beyoncé, Mariah Carey, Timbaland, Kelly Rowland and more.
The tour will kick off on May 23, 2013 at the Myth Theater in Minneapolis, Minnesota and ends on June 28, 2013 at the Regency/Mezzanine in San Francisco, California.
Tour Dates Include:
May 23 Minneapolis, MN Myth
May 24 Kansas City, MO Midland Theatre
May 26 Washington, DC Fillmore
May 28 Baltimore, MD Ram's Head
May 29 Boston, MA Wilbur
May 30 New York, NY Best Buy
May 31 Philadelphia, PA Theatre of Living Arts
June 4 Raleigh, NC TBD
June 5 Atlanta, GA CenterStage
June 6 Orlando, FL HOB
June 7 Myrtle Beach, SC HOB
June 13 Jackson, MS Thalia Mara Hall
June 14 Baton Rouge, LA Varsity Theatre/ BR River Center
June 15 Houston, TX Arena Theatre
June 16 Dallas, TX Palladium
June 19 Toronto, Canada Kool Haus
June 20 Detroit, MI Royal Oak
June 21 Cleveland, OH HOB
June 22 Cincinnati, OH Bogarts
June 23 Chicago, IL House of Blues
June 26 Sacramento, CA Woodlake hotel
June 28 San Francisco, CA Regency / Mezzanine
For more information and updates on the tour please log on to www.kellyrowland.com and www.the-dreammusic.com. .