The Pulse of Entertainment: CeCe Winans Releases '...A Christmas Album' and Jazz Vocalist Kathy Sanborn is Love, on New Single 'Love Will LIght the Way'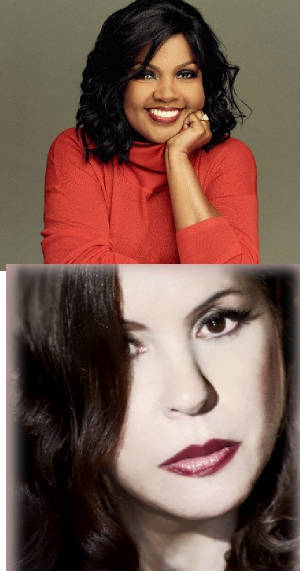 "This is my second time," said CeCe Winans-Love, a 12-time Grammy winner, about working with her son Alvin Love, III on a Christmas album. CeCe recently released the new Christmas album, "Something's Happening! A Christmas Album," on her record label PureSprings Gospel. "We won two Grammies that year. We're at it again."
Winans, the 8th child of 10 in the infamous family of Gospel singing living legends, was noted as the highest selling female Gospel artist of all time as recently as 2015. She brings her talent to my hometown of Baltimore December 21, 2018 performing some of her Christmas songs with the Baltimore Symphony Orchestra. The first single from the 11 song album is "It's Christmas." The single is a Motown flavored Praise & Worship piece with a horn solo that is inspiring.
When I asked her how did it go working with her son, Alvin Love, III, as producer she laughed, "It was very funny the first time around, him telling me what to do. There was an adjustment but I've known for years...his abilities. He did an awesome job. I think this is the best work I've put out."
CeCe is the first lady of Nashville Life and will perform songs from her "Something's Happening! A Christmas Album" project on December 7-8th at the church. Nashville Life is headed by her husband Alvin Love, II. I could tell she is so proud of her son's musical abilities as she talks about him.
"He's a lover of Motown, the old and the new. He purposely put almost a throw-back Motown feel. The Praise & Worship is probably who I am," CeCe said when I mentioned the single had a Motown/Praise & Worship sound.
CeCe, a Hollywood Walk of Fame recipient, started in the music business in 1984 as a duo with her brother BeBe, helping to make Contemporary Gospel cool. Together they did nine albums, the last project was released in 2009 and the last single together was "Found Love" in 2010. As a duo they garnered three Grammy Awards. She launched as a soloist in 1995 and her last album, recorded with her son, was in 2017. She has garnered 23 Dove Awards. Her and Alvin's last Christmas album was "His Gift" in 1998.
"Christmas is the time of year people focus on love and Christ. That's something we can do, we can do this all year round - showing love of others, giving gifts. When Jesus came he brought peace and love, and we can too," the First Lady CeCe Winans concluded. www.CeCeWinans.com
Jazz vocalist Kathy Sanborn releases new single "Love Will Light the Way" inspired by producer Matthew Shell who gave her a keyboard and bass track. The track inspired Kathy to write the lyrics to the single and Grammy nominated guitarist MASA adds his flavor, with Glenn Welman on drums and Matt Veirs on percussions.
"It just flowed," said Kathy about the lyrics to her single "Love Will Light the Way." "When I heard that track it inspired me to do the lyrics and melody line. It's all about how things can turn around."
Sanborn is a Los Angeles native but resides in New York. She won an American Songwriting Award in 2015 for her single "Fantasy," a Latin flavored song. Kathy won an International Music Award in 2017 for her single "Falling" on her eight album titled "Recollecting You".
"I do an album every one or two years. This was special working with... MASA," she said. "He recently moved to L.A. from Japan."
The Jazz vocalist said an album is coming, but not right now because she recently released the "Recollecting You" album in 2017, which is still getting great airplay on the radio. www.KathySanborn.com
SYNDICATED COLUMN: Eunice Moseley, has an estimated weekly readership of over ¼ million with The Pulse of Entertainment. She is also a Public Relations Strategist and Business Management Consultant at Freelance Associates, and is Promotions Director (at-large) for The Baltimore Times. www.ThePulseofEntertainment.com. EVENT: "Uplifting Minds II" Free Entertainment Conference annually in Baltimore (Saturday April 20, 2019) and Los Angeles (October/TBD). Offering Entertainment Business panel and a talent showcase and competition (vocal, songwriting, dance and acting) with over $15,000 valued in prizes. www.UpliftingMinds2.com.