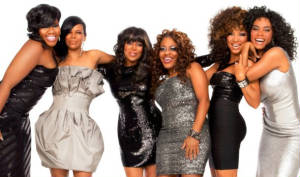 TV One's 'R&B Divas LA' premieres with powerhouse cast, airs on Wednesdays at 10 p.m.
By Eunice Moseley

"Faith Evans called me, she had this wonderful idea," said Phil Thornton, co-executive producer of TV One's new reality series "R&B Divas L.A.," while on the red carpet of the premiere event in Hollywood. "R&B Divas LA" premiered July 10, 2013 and will air weekly on Wednesday at 10 p.m./9 p.m. Central. "This is my fifth television show," said Phil who is vice president of marketing and new business development at eOne Music (Erica Campbell, Michelle Williams) in Nashville.
The cast of the new reality show includes Hollywood powerhouse vocalists Gospel's Kelly Price, R & B's Chante' Moore, Dawn Robinson and Claudette Ortiz (City High), and Hip-Hop's Michel'le and Lil' Mo. A new chapter in the "R&B Divas" franchise, which Thornton also executive produces the Atlanta series, the Los Angeles version is all about singing.
"People hold grudges, people can't disagree," pointed out radio personality and Hip-Hop vocalist Lil' Mo about her initial thoughts on joining a reality show. "You want people to want to watch you..." On her cast members Lil' Mo said, "I know them all - we are cool. I know Kelly the most. We respect each other's talent."
"I thought it was going to be cat-fights, silliness for no reason," said seven-time Grammy Award winning Dawn Robinson (EnVogue) about her initial thoughts on joining the cast. "We required that it not get negative...be adult, talk things out...we raise our kids not to fight."
"I was surprised I let come out what did," said R&B princess Chante Moore, who just released a new CD "Moore is More," about her experience on the reality show. "I didn't know I'd become comfortable enough to show certain things. It's addictive. You get in the habit of talking. It's important to me too really get to be ourselves...the good and the ugly. I did enjoy myself. When they called me I was amazed, flattered and honored. It's based on music...to make another genre of entertainment. The women on the show are amazing and I'm a big fan.
"I always said I wouldn't be on a reality show...they nice to watch... but I didn't want to expose my children...so at first I said I don't think so. Then I thought about it...I was at a place in my life where it was an opportunity...so I researched the show and it seemed positive," said R&B's Claudette Ortiz, from the group City High now a model, actress (ABC's "My Wife and Kids") and working on a solo project featuring Mase, Wyclef Jean and the production work of Pharrell and Will.i.am. Ortiz first single from her debut is out now titled "Can't Get Enough." "The way they approached us was not to try and create any drama on the show. I'm glad I did it so far..."
"R&B Divas LA" is also available on VOD (Videos on Demand). TV One, launched in 2002, currently has 57.3 million households tuning in and in 2008 it launched TV One High Def which serves 14 million households. It is owned by Radio One and Comcast.
Log onto www.TVOneOnline.com/shows/R-B-divas-la for more information on the "R&B Divas LA" TV One reality show.

TNT's 'The Hero,' with mentor The Rock, changing lives and airs on Thursdays 8 p.m.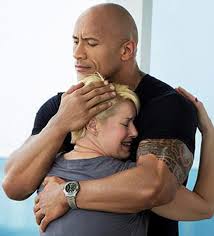 "He makes me in awe," said Patty ONeil, one of nine cast members of the new TNT reality show competition "The Hero," which airs on Thursdays at 8 p.m./7 p.m. Central. "He's unbelievable. I have never been a hero. I'm part of an ecliptic group of women - I'm a mom and wife. That's a hero, every woman is a hero."
This reality show is a competition to see who amongst the nine contestants have the characteristics of what they feel is the makings of a hero. So they will be tested physically, mentally and morally with film's action hero and wrestling star Dwayne "The Rock" Johnson as their mentor.
"Being a wife and mother I've never done anything brave until this show," laughed ONeil, also a realtor, salon assistant and a holiday worker at Macy's. "It changed my life for sure and it came from Dwayne and the show."
At the end America will be asked to make the call as to who is the real hero on the show. The other contestants include Shaun, Marty, Darnell, Dr. Dave, Rachel, Athena, Lydia and Charles.
"I diffidently had to look at myself," Patty added about her experience on the show. "I wore a size 10...it made me look at nutrition and health. When the show is over I will go back to my three jobs with a big smile."
TNT's 'The Hero" airs each Thursday at 8/7c. Find out more by logging onto www.TNTDrama.com/series/the-hero.

(Event: Saturday Oct 19th the Los Angeles "Uplifting Minds II" FREE one-day entertainment conference (two intense seminars, talent and competition showcase) at the Celebrity Centre in Hollywood, sponsored in part by www.EURweb.com - www.UpliftingMinds2.com. Syndicated Column: The Pulse of Entertainment is written weekly by Eunice Moseley, also a PR/Business Management consultant - www.ThePulseofEntertainment.com, www.FreelanceAssociatesInc.com.)