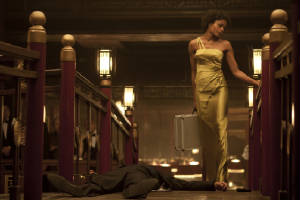 Skyfall's surprising twists hold you spellbound, arrives in theaters November 9, 2012

By
Eunice Moseley

The MGM/Columbia Pictures/Sony Picture Entertainment release of Skyfall, the 23rd James Bond aka 007 franchise has surprising twists that hold you spellbound for the whole historical two hours and 23 minutes. Skyfall, produced by Eon Productions, stars Daniel Craig who returns as 007 (James Bond); Judi Dench as M (Mother) - head of MI6; Ben Whishaw as Q, Javier Bardem as Raoul Silva (the villain); Helen McCrory as Clair Dowar; Ralph Fiennes as Gareth Mallory, head of Intelligence and Security; Berenice Marlohe as Severine, and Naomie Harris as Eve (James Bond Girl).

"It's been Halle, Grace Jones and now me," said Naomie Harris about being an the third ever African-American in the role of 'the' James Bond Girl in Skyfall. "I feel amazing - really, really fantastic. I was in a theater, Frankenstein play, and the people casting for Bond were there, saw me.... I auditioned and three auditions later... I think they made my character unique, strong, independent, and very capable. I hope the audience watches her and be proud to be a woman."

My favorite number is three I tell Naomie and surprisingly it's her favorite number too - for the same reason. Skyfall arrives at theatres November 9, 2012 and is about Bond saving MI6 (and Mother) when it comes under attack by a former MI6 colleague, Raoul Silva (Bardem). It is Eve's (Harris) job to have Bonds back and she does this - successfully and unsuccessfully - but with a bit of humor.

"It's British as well," Naomie said about the humor part of the film, especially in her role. "I think it's important. Its classic in James Bond films, you have to raise eye brows and I love to make people smile."

There it is again, another thing we have in common; maybe I would make a good James Bond Girl! Harris, with her lovely British accent, is from London and has starred in such projects as The Pirates of the Caribbean, The First Grader and DVD films Ninja Assassin and Explicit Ills.

"I had to do a lot of stunts," she told me when asked about the action-moves she makes in the role as the Bond Girl. "I had a lot of preparation for the role...two months of driving, combat, the gun range, sharp shooting... lots of gun work. I found it very difficult in the beginning - I'm very lazy, but you get into it... it becomes fun - and it's great to have a trainer to get you out of bed."

The Rated PG-13 IMAX Experience film is the longest running film of all time at two hours and 23 minutes, but the surprises and twist of the plot will keep you spellbound. Directed by Sam Mendes and written by Neal Purvis, Robert Wade and John Logan, Skyfall also stars Albert Finney as Kincade, Ola Rapace as Patrice and Rory Kinnear as Bill Tanner.
Navid Negahban plays a villain in the Showtime Emmy winning drama 'Homeland,' airs Sundays at 10 p.m.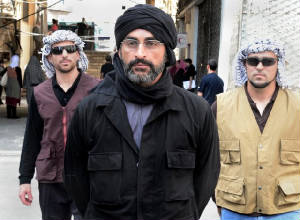 "He is a human being," said Navid Negahban about his character Abu Nazir, the CIA's public enemy #1, in the Showtime Emmy and Golden Globe Award winning drama "Homeland," which also stars Claire Danes (CIA analyst Carrie Mathison) and Damian Lewis (U.S. Marine Sergeant Nicholas Brody). "He is standing up - right or wrong - I cannot judge that. As a character he believes he is right."
"Homeland," which airs on Sundays at 10:00 p.m., is reportedly already picked-up for a third season. The second season premiered on September 30th with Navid's character, Abu - the high ranking member of Al Qaeda - suspected by Mathison of turning U.S. Marine Brody against America while he is held captive as a prisoner of war.
"When you are playing a villain, you're not a villain, you're a character that thinks you're right when you do something....you find the hero in the character," Negahban explained to me about how he can play villains so convincingly. "When you find a love in what you're doing, that gives you a clean slate...a blank canvas you can do what you want."
Navid is a television, film and stage actor who has powerful roles in such projects as The Stoning of Soraya M., Brothers (starring Jake Gyllenhaal and Tobey Maguire); Powder Blue (starring Jessica Biel and Forest Whitaker), and Charlie Wilson's War (starring Tom Hanks, Julie Roberts and Amy Adams).
Negahban, who was born in Iran, is most noted for his role in the Fox final season of "24," where he played Jamot, an Islamic Republic of Kamistan delegate and confident to the president of IRK. He has also appeared on "CSI: Miami," "Lost," and "Law & Order."
For more information on Showtime's "Homeland," which is based on the Israeli series "Hatufim (Prisoners of War)," log onto www.sho.com/sho/homeland/home.

(Columnist: Eunice Moseley is a PR/media & promotions consultant, and as well as a syndicated entertainment columnist for over 20 years - www.ThePulseofEntertainment.com.)