"I wrote it ten years ago," said Rian Johnson, screenwriter and director on the new Tri Star Picture release of Looper, starring Joseph Gordon-Levitt and Bruce Willis. "I wrote the main part for Joseph. He is a real dear friend...as an actor he disappears into his part."

Joseph Gordon-Levitt (Premium Rush) stars as Joe, a hired gun from the future (2072) who travels to the past to assassinate them. Then one day the mob targets him to "close the loop,' and send his future self played by Bruce Willis to assassinate him.

"It's a very deep honor. It's the first time it happens to me," Joseph Gordon-Levitt said about the lead role being written with him in mind. "We've been talking about this movie or a long time."

When I mentioned that Rian said he loses himself in his role just like Bruce Willis, Joseph said, "My favorite performance is when you don't see the actor, you see the character. I spent three hours in the chair to change my face so you will not see me," He added. "Looper was a unique challenge."

He went on to explain that his job was to be more like Bruce Willis' acting in character. So he studied Willis in movies to learn his acting skills and other techniques.

"I studied Bruce. Studied his movies," Joseph said. "Bruce recorded some of my monologues so I would know what he would sound like."

The action/sci-fi film also stars Emily Blunt, Paul Dano, Noah Segan, Piper Perabo and Jeff Daniels. Rated R, Looper is produced by DMG Entertainment, Endgame Entertainment, and FilmDistrict, and arrives in theaters September 28, 2012.
For more information on the Tri Star presentation of Looper log onto
www.LooperMovie.com
Jake Gyllenhaal and Michael Pena battle the war on drugs in End of Watch, arrives in theaters September 21, 2012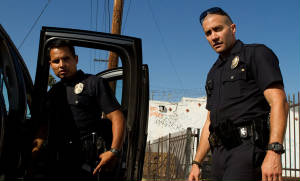 Taken from the life experiences of a South Central Los Angeles police office and his partner, the Open Road Films and Exclusive Media presentation of End of Watch, starring Jake Gyllenhaal (Broke Back Mountain) and Michael Pena (Crash), arrives in theaters September 21, 2012. In End of Watch Officer Mike Zavala (Pena) and Officer Brian Taylor (Gyllenhaal) stumble onto the FBI's hidden war on drugs run by the Mexican cartel, right in their neighborhood in South Central Los Angeles. But neither could look away as ordered, so the battle the war on drugs in this dramatic thriller. End of Watch also stars Anna Kendricks, America Ferrera, Cody Horn, Natalie Martinez and Frank Grillo.

"We spent five months on the streets from 4 p.m. to 4 a.m.," said Jake Gyllenhaal, sporting all his hair and a beard now. "We did tactical training, S.W.A.T., fighting training, sparing - we developed a relationship with the police officers and everyone in the community saw us around. It shaped my life as a person."

Jake and Michael told of stories that had to be toned down for the movie that happened during "their" watch in South Central.

"This movie I hold close to my heart," Michael Pena added. "Jake wanted me to do the best that I could do. He helped me train and we did ride a-longs together."

"It was shot in 22 days," Jake informed of the actual filming of End of Watch.

"Jake had a hand-held camera with him and sometimes we wore an apparatus with a monitor wrapped around," Michael said when questioned about the in-your-face camera shots used in the film to indicate it's being shot through the lens of Officer Brian's own camera. In the film he is using his camera to document his time on the streets. "Like when I was about to fight the dude...you just saw my hands. We wanted people to feel like they were inside of the movie."

End of Watch had you on the edge of your seats nervous about what dangers they would face the next day. I was wondering would they survive the watch and if that day, seemingly, would be their last.

"A friend of mine is a cop and he and people he worked with would bring cameras to work with them, like everyone else," said David Ayer (Training Day, S.W.A.T.), who is screenwriter, director and producer of this film. "He showed me the footage and I saw nothing like it. I had never seen this before. James (his friend the cop) was in drugs (division)...for eight years. His partner was black. The guys would give him grief about being with a black guy - he'd tell me his story... I used a Latino because my wife is Mexican, so I know the culture."
End of Watch is also produced by John Leshner, Nigel Sinclair and Matt Jackson. The Rated R film is an Emmett/Farla Film, Crave Film, Exclusive Media Group, Grisbi Production. For more on End of Watch log onto
www.EndofWatchTheFilm.com
.
(Columnist: Eunice Moseley is a PR/media & promotions consultant, and as well as a syndicated entertainment columnist for over 20 years -
www.ThePulseofEntertainment.com
. NEWS FLASH: Meet EURweb.com publisher Lee Bailey and Praise 98FM's Lady Charmain (program director) at the KJLH 102.3FM's DJ Roc hosted "Uplifting Minds II" entertainment conference, presented by Boosweet Records Saturday, October 20, 2012. The conference is sponsored in part by www.EURweb.com and Praise 98FM. Held at the Celebrity Centre in Hollywood, CA, the one-day ULMII conference offers three intense seminars, an 'established artist showcase,' and a national talent competition showcase - admission is free!
www.UpliftingMinds2.com
.)