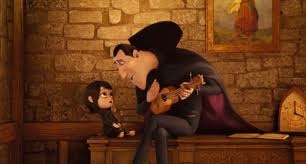 Hotel Transylvania is very funny, yet very romantic, stars Adam Sandler, Selena Gomez, Luenell and Ceelo Green, arrives in theaters September 28, 2012

By
Eunice Moseley

I laughed from the beginning to the very end while screening the Sony Picture Animation, Columbia Pictures presentation of Hotel Transylvania (3D). The Rated PG film is a very funny, yet very romantic tell of a father's over-protective love for his daughter and a daughters' love for a man. Arriving in theaters September 28, 2012 Hotel Transylvania is directed by Gennedy Tartakovsky, and produced by Michelle Murdocca. Written by Peter Baynham and Robert Smigel, it stars Sandler as Dracula, Selena Gomez as his daughter Marvis; comedienne Luenell as Marvis' shrunken head door-notice; Fran Drescher as Auntie Eunice, and Ceelo Green as Murray the mummy.

"I got to meet Adam, he produced it," said Selena Gomez when asked if she met the cast while recording her voice-overs. "I never got to work with the other actors, but he was there to see where I was at with my voice... I've done a few voice-overs, this is the biggest."

Selena said she didn't change her voice, in fact, it seems Adam is the only one that changed his voice to sound "Blah, Blah, Blah" like a vampire. Ceelo Green voice was distinctive, certainly Fran Drescher's voice is distinctive, and funny girl Luenell's voice rang out clear as well.

"This is my second Adam Sandler film," Luenell informed me about how she was cast. "We met on That's My Boy...he reuses people and I said you don't have a resident sister, I'm down for being her."

I guess he was down for Luenell - who will also be co-starring in Taken 2, out in theaters October 5th and is still doing her stand-up - because here she is in another Adam Sandler film. This great family film also stars Kevin James as Frankenstein; Jon Lovitz as Quasimodo; Adam Samberg as "the human" Jonathan who falls in love with Marvis; Molly Shannon as Wanda the pregnant werewolf; Steve Buscemi as Wayne the husband werewolf; David Spade as Griffin the Invisible Man; Chris Parnell as the Fly, and Brian George as the Suit of Armor.
Tri Destined' Note to Self, starring Christian Keyes and LeToya Luckett, arrives on DVD October 2, 2012

"I wrote this in 2005," said screenwriter/actor Christian Keyes ("Let's Stay Together") who wrote and stars in the Tri Destined Studios/Image Entertainment presentation of Note to Self, which arrives DVD October 2, 2012. "I thought at the time it was a film for college students. It's a funny coming of age (story) - Stomp the Yard hadn't come out yet and when it came out it made 60 million in two months - that reinforced me. I took it to a couple studios...they were all passing...I kept pushing."
Keyes pushed his script right into the hands Image Entertainment who - due to budget cuts - went looking for a partner and found one in Tri Destined Studios. Tri Destined loved the script and felt it fit perfectly with what they wanted to produce.
"A perfect combination," director Trey Haley said about his company, Tri Destined, taking on Christian Keyes' project. "Chris brought the script to my business partner ND Brown. The storyline was something we wanted to create...it stood out and really needed to be seen. As African-American males, dealing with our feelings, we often run away. In the film Brian McKnight is the therapist who suggests that he write out his thoughts"
A romantic sports oriented film, Note to Self, also stars LeToya Luckett (Preacher's Kid) as his love interest, Richard T. Jones (Why Did I Get Married); Eva Marcille ("America's Top Model"); Clifton Powell (Ray); Valarie Pettiford (Jumping the Broom); Jason Weaver (Drumline), and Brely Evans (Sparkle). Note to Self is also presented by One Village Entertainment and Swirl Films, and produced by ND Brown, Eric Tomosunas, Veronica Nichols, Keith Neal and executive produced by Keyes and Brett Dismuke.
"He finds he likes who he is and gets a chance to see what true love is," Trey said about his Christian Keyes' character Curtis. "You see him write in his journal as he talks to the therypist; Brian McKnight gives an extremely powerful performance."
For more on the romantic film Note to Self film log onto NoteToSelf.Tumblr.com.
Doris Bergman's annual Primetime Emmy Style Lounge and Party a fabulous affair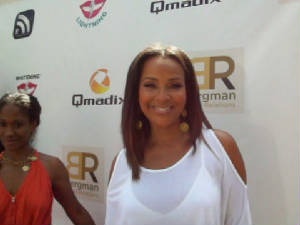 Again this year Doris Bergman's annual Primetme Emmy Style Lounge and Party was held at the Café' La Boheme in West Hollywood. The event catered to the Emmy nominees (and supporters) - past and present - offering a wide variety of gifts, with exquisite food and drinks. Co-produced by Michelle Faulkner the event was presented by Qmadix, with Whitening Lightning.
The event started early but that didn't stop the Hollywood celebrities from coming out. I dropped by the all day event and had the pleasure of meeting Carolyn Hennessy ("True Blood"), J Grace (singer opening up for Boyz II Men); Eva La Rue ("CSI: Miami"); Jason Ritter ("Parenthood"); Jamar Rogers ("The Voice" - semi-finalist); Melissa Peterman ("Baby Daddy"); Nicholas Guest ("Sons of Anarchy" - FX); RJ Mitte ("Breaking Bad"); LisaRaye ("Single Ladies" - VH1); Fiona Gubelmann ("Wilfred" - FX), and OKera Banks (VH1 Stylist).
"'Single ladies' is on Monday nights on VH1. We're in Atlanta shooting there," said LisaRaye on the red carpet at the Primetime Emmy Style Lounge and Party event. Her show "Single Ladies" is on its third season. When asked about that success and what she think it's due to she said, "We all are no better than the other. We love to show women it's ok to be smart." When asked about winning an Emmy she said, "You feel a power off that (when someone wins the Emmy), anyone that wins deserves a pat on the back."
Fiona, when talking about Emmy winners this year said, "I hope they ("Wilfred") get nominated and win, but I'm rooting for Jason Ritter of 'Parenthood'!"
My interview with VH1 stylist OKera Banks (Mary J Blide, LisaRaye and Bill Bellamy) was interesting - being that I pride myself on not wearing any name brands and for having my own style - she had some interesting views on styling people.
"One thing I like to do is get to know you period," OKera pointed out to me. "We go from there and we enhance. I believe in being comfortably free...look perfect in the skin that you're in."
Before I left I could tell it was another fabulous event by Doris Bergman: the food - specially the crab cakes - was superb, the staff - so sweet, and the host Doris, as always, the bell of the ball. Gifts were provided by Rana, SimulTalk, Terox, Dermastart, Hoodswagaa, Mon Atelier, Total Healthy Lifestyle, Twisted Silver, NitroCream, Baron Hats, Executive Clothing, Nu-4U, Spongeables, Ollin Arm Candy, Bon-Bon, Whirl, Lusciouss, Honest Tea, Model in the Bottle, Michael Marcus Cosmetics, Roadkill Rance, Spontungous, Radar Watches and Chocolate Shop.
Learn more about Doris Bergman's events and her Public Relations services at www.GermanPR.com.

(Columnist: Eunice Moseley is a PR/media & promotions consultant, and as well as a syndicated entertainment columnist for over 20 years - www.ThePulseofEntertainment.com. NEWS FLASH: Meet EURweb.com publisher Lee Bailey, Praise 98FM's Lady Charmaine (also program director), and Pierre Neilly (Booswet Records) at the DJ Roc (KJLH) hosted "Uplifting Minds II" entertainment conference, presented by Boosweet Records Saturday, October 20, 2012. The conference is sponsored in part by www.EURweb.com and Praise 98FM. Held at the Celebrity Centre in Hollywood, CA, the one-day ULMII conference offers three intense seminars, an 'established artist showcase,' and a national talent competition showcase - admission is free! www.UpliftingMinds2.com)