| | |
| --- | --- |
| | |
The Pulse of Entertainment: Lionsgate's Presentation of 'Wonder' Will Make You Cry and Laugh

You can't fit in when you were born to be different, that is one of the messages of the Lionsgate presentation Wonder starring Academy Award winner Julie Roberts, Academy Award nominated Owen Wilson and Critics' Choice Movie Award winner Jacob Tremblay as August Pullman, a ten year old born with a facial disfiguration. Wonder arrives in theaters November 17, 2017 and is directed and co-written by Stephen Chbosky (Beauty and the Beast).


"We were having lunch (with an agent) and he said, 'I may have a book for you guys'," said film producer David Hoberman (Mandeville Films) about how he chose "Wonder" by author RJ Palacio for his next film project. "So each of us (his partner Todd Lieberman) read it that night. Usually it takes 2 - 3 weeks, but both of us read it that night, we cried and laughed. It was such a cleaver way of telling a story - from all sides and we like the happy and triumphed ending."

The story centered on the Pullmans and tells the story of how the family dealt with their son and brothers' disfiguration. The Pullmans include Jacob Tremblay (The Smurfs 2) as August, Julia Roberts (The Pelican Brief) as Isabel, Owen Wilson (Night at the Museum) as Nate and Izabela Vidovic as Olivia. August is 10 years old and he is going to school for the first time - Middle School. He wants to wear a space helmet to hide his face, but his dad wants him to be proud of his face and hides the helmet from him. August (who is a genius) learns to live without the helmet; learns to be proud of his genius ability; learns who his "real" friends are, and his "real" friends learn how to be real with him whether alone or in a crowd. But it seems everyone has forgotten about Via, his sister in high school, who is trying to be a good sister and daughter while dealing with her own teenage needs. How everyone deals with their issues in Wonder will make you cry and laugh.

"We all can be made to be outsiders. Its sort of what the film ...

Read the full November 17, 2017 column...>

Gospel Sperstar CeCe Winans To Be Honored at LA Focus 20th Annual First Ladies High Tea

(Los Angeles, CA) - CeCe Winans is set to receive the Spirit Award at the 20th Annual First Ladies High Tea held at the Beverly Hilton Hotel on Saturday, November 11, 2017 at 11 AM. Others being honored include 37th District Congresswoman Karen Bass, actress Wendy Raquel Robinson and First Ladies who have served their communities well, through their activism and charitable contributions. The First Lady Honorees include: Regina Taylor (Park Windsor Baptist Church), Morgen Wilbourne (Pacific Crossroads Church), Patricia Swancy (Peace Apostolic Church) and Cynthia Buelna (Restauracion Total Church). Gospel Legend Dr. Bobby Jones and Dr. Beverly "BAM" Crawford, Pastor, Bible Enrichment Fellowship International Church will return as Co-Hosts.

Billy Ray Cyrus Appeared on 'CBS Sunday Morning' with Daughter Miley Cyrus in Prep for New Album, 'Set The Record Straight'

(Nashville, Tenn) - Billy Ray Cyrus is everywhere in advance of his highly anticipated new album "Set The Record Straight," available November 10, 2017. Cyrus appeared on CBS Sunday Morning alongside daughter Miley after serving two weeks as her team advisor on "The Voice." Cyrus' "Set The Record Straight" also features collaborations with Joe Perry, George Jones, Loretta Lynn, Bryan Adams, Glenn Hughes, Jencarlos Canela and Ronnie Milsap. Fans who pre-order a physical copy of "Set the Record Straight" will receive an autographed CD when it's released November 10th. iTunes pre-orders will get 3 instant gratis tracks, including "I Wanna Be Your Joe," "Achy Break Heart 25th (Muscle Shoals Mix)" and "Tulsa Time (Rokman Remix)."

VIDEO CLIP OF THE WEEK



Daughter of Syndicated Columnist Eunice Moseley, Dr. Kerri Moseley-Hobbs Speaking at Virginia Tech.

Dr. Kerri Moseley-Hobbs is thr daughter of The Pulse of Entertainment's publisher, Eunice Moseley, who recently hosted a book presention/lecture at Virginia Tech for her creative non-fiction book "More Than A Fraction: Based on a true story." The Lecture was about her research that led her to the plantation where her ancestors were enslaved, her being asked to be a member of the Board of Trustees of the plantation's foundation (Smithfield-Preston Foundationm), which oversees the historical grounds.
SPOTLIGHT of THE WEEK
"FILM SUBMISSIONS OPEN FOR 2018 ILICFF"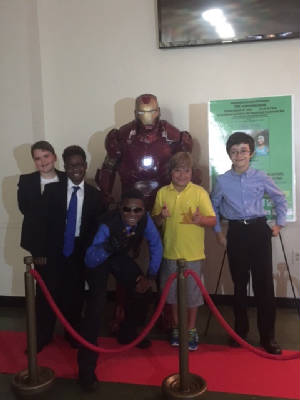 (Baltimore, MD) - The 2nd annual Imagination Lunchbox International Children's Film Festival (ILICFF) just announced it has opened up to film submissions. The short films selected will be included in the lineup of films screened Thursday April 19, 2018 at ILICFF in Baltimore, Maryland. The film festival will be held at Maryland Film Festival's Parkway Theatre (5 W. North Ave, 21201). ILICFF is seeking films that are 10 - 15 minutes in length made by children or made for children (ages 18 years and under). The film festival founder protégé Anthony Michael Hobbs (Emmy nominated PBS Special "The Abolitionist") is a multi-award winning filmmaker. His motto is "don't dream it, do it" and he wants to provide a platform for those children who want to take a dream and make it real.
The event will be held at the historical Parkway Theatre. It will provide a red carpet arrival for the filmmakers selected, and a panel Q&A and workshop activities. The selected films will be screened and voted on by the ILICFF panel and the audience. At closing the winners will be announced for "Best Film", "Audience Choice," and the "Most Uplifting Film" (sponsored by the 19th annual "Uplifting Minds II" entertainment conferences held in Baltimore and Los Angeles). Registration discounts are offered for early ILICFF submission and for students.
Last years' ILICFF winners were from Spain and the U.S. Submissions however came also from India, New Zealand and Japan. They included dramas, comedies, documentaries and animations. The Imagination Lunchbox International Film Festival was created to inspire kids and their parents. Founder Hobbs has written, produced, directed and starred in three of his own films: One Nation, Naga Pixie and Agent Hollywood. They were all produced by his company Imagination Lunchbox, LLC.
His first short film One Nation was made because former President Obama's called for short films by children. His film did not make it but it inspired him to make more films. The One Nation film is about a group of kids doing something special for returning soldiers from the Iraq war. It was screened in 10 international film festivals and he won four awards. His second film Naga Pixie is about a group of friends being chased by a "Pixie" who is scolding them about how they treat animals and the earth. It has been screened at six film festivals and has won at two. His third short Agent Hollywood premiered at his own international film festival in 2016 when he was 11 years old. It is co-produced and co-directed by his former basketball coach Michael Forstner. Agent Hollywood is about a young celebrity actor who is really an undercover agent with a mission to save the world. Anthony Michael Hobbs will premiere his forth short, a documentary, at the 2018 Imagination Lunchbox International Film Festival held at the Parkway Theatre in Baltimore.
For more information about the ILIFF or to submit a short film you can log onto the website at www.ImaginationLunchbox.com or www.anthony-michael.com. You can also contact the festival at ImaginationLunchbox@gmail.com.

# # #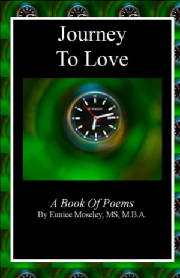 "Journey to Love" by Eunice Moseley now Available at Barnes and Nobles.
Eunice Moseley


Create Your Badge