| | |
| --- | --- |
| | |
The Pulse of Entertainment: Disney Casts Rapper Regan; Sherwin Gardner's 'Greater' is Powerful

"I went to audition three times because I was sick," said Regan Aaliyah about being cast as Disney's first rapper in their new "Mickey Mouse Club" show renamed "Club Mickey Mouse." "My agent said to the producer, 'I know this girl.' (At the audition) They said do everything so I rapped, sang and danced. They said, 'we are obsessed with you. You are on board.'"
So Regan joined seven other teens to form the new Disney "Mickey Mouse Club." Her fellow Mouseketeers include Australian singer Ky Baldwin (16 year old); singer Brianna Mazzola; dancer Jenna Alvarez (Ballet/Hip-Hop); 16 year old dancer Gabe De Guzman (Missy Elliot/Katy Perry); Los Angeles singer/dancer Leanne Tessa Langston (17 years old); Spanish-American guitarist Sean Oliu; 17 year old dancer Will Simmons (Justin Bieber, Kendrick Lamar), and 18 year old Regan Aliyah from Los Angeles (Urban Xtreme).
"They wanted to have a fresh ...Read the full December 8, 2017 column...>

Trinidad native Sherwin Gardner released his 16th album titled "Greater," a powerful collection of Praise & Worship songs. In Trinidad he is what Kirk Franklin is to the United States, but he was a Reggae/Dance Hall artist that included a Praise & Worship song on his albums and Kirk Franklin is a Praise & Worship leader that uses secular music on his albums. "Greater," recorded live at SJPC House of Restoration Ministries in St. John, Antigua, where he is Worship Leader, is his first full Inspirational project.
"Greater" offers 13 original songs with 2 reprises. Of the 15 selections three were recorded in the studio. "Greater" features vocal assistance from Deitrick Haddon and Todd Dulaney. When released it debuted at #4 on the Billboard Gospel Albums Sales Chart.
"I have 15 albums. This is my first Gospel album...it still has a little island flavor," Sherwin explains. "I have always been a Praise & Worship leader but as an artist it's been...Read the full December 8, 2017 column...>

Vivian Green Releases Single 'I Don't Know' off New Album 'VGVI'

(Los Angeles, CA) - Vivian Green releases music video for "I Don't Know" the debut single off her new album VGVI while appearing on Patti Labelle's Christmas Album Home for the Holidays and starring in the stage play of the film adaptation "Two Can Play That Game" alongside Vivia Fox, Columbus Short, Gary Dourdan and Porsha Williams.

Calvin Klein Campaign Features Singer Solange'

(New York, NY) - Calvin Klein rolls out its new campaign introduces an evolution in the Calvin Klein brand's globally recognized #MyCalvins call to action as "Our Family."

Shot by photographer Willy Vanderperre, the first iteration of this new campaign features songwriter and recording/visual artist Solange alongside her personally curated cast of singers/songwriters that include Kelela, Dev Hynes, Caroline Polachek, and Adam Bainbridge of the group Kindness.



"Journey to Love" by Eunice Moseley now Available at Barnes and Nobles.

VIDEO CLIP OF THE WEEK



Daughter of Syndicated Columnist Eunice Moseley, Dr. Kerri Moseley-Hobbs Speaking at Virginia Tech.

Dr. Kerri Moseley-Hobbs is thr daughter of The Pulse of Entertainment's publisher, Eunice Moseley, who recently hosted a book presention/lecture at Virginia Tech for her creative non-fiction book "More Than A Fraction: Based on a true story." The Lecture was about her research that led her to the plantation where her ancestors were enslaved, her being asked to be a member of the Board of Trustees of the plantation's foundation (Smithfield-Preston Foundationm), which oversees the historical grounds.
SPOTLIGHT of THE WEEK
"FILM SUBMISSIONS OPEN FOR 2018 ILICFF"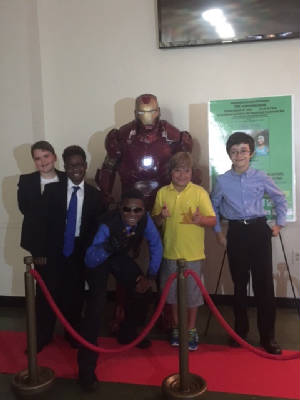 (Baltimore, MD) - The 2nd annual Imagination Lunchbox International Children's Film Festival (ILICFF) just announced it has opened up to film submissions. The short films selected will be included in the lineup of films screened Thursday April 19, 2018 at ILICFF in Baltimore, Maryland. The film festival will be held at Maryland Film Festival's Parkway Theatre (5 W. North Ave, 21201). ILICFF is seeking films that are 10 - 15 minutes in length made by children or made for children (ages 18 years and under). The film festival founder protégé Anthony Michael Hobbs (Emmy nominated PBS Special "The Abolitionist") is a multi-award winning filmmaker. His motto is "don't dream it, do it" and he wants to provide a platform for those children who want to take a dream and make it real.
The event will be held at the historical Parkway Theatre. It will provide a red carpet arrival for the filmmakers selected, and a panel Q&A and workshop activities. The selected films will be screened and voted on by the ILICFF panel and the audience. At closing the winners will be announced for "Best Film", "Audience Choice," and the "Most Uplifting Film" (sponsored by the 19th annual "Uplifting Minds II" entertainment conferences held in Baltimore and Los Angeles). Registration discounts are offered for early ILICFF submission and for students.
Last years' ILICFF winners were from Spain and the U.S. Submissions however came also from India, New Zealand and Japan. They included dramas, comedies, documentaries and animations. The Imagination Lunchbox International Film Festival was created to inspire kids and their parents. Founder Hobbs has written, produced, directed and starred in three of his own films: One Nation, Naga Pixie and Agent Hollywood. They were all produced by his company Imagination Lunchbox, LLC.
His first short film One Nation was made because former President Obama's called for short films by children. His film did not make it but it inspired him to make more films. The One Nation film is about a group of kids doing something special for returning soldiers from the Iraq war. It was screened in 10 international film festivals and he won four awards. His second film Naga Pixie is about a group of friends being chased by a "Pixie" who is scolding them about how they treat animals and the earth. It has been screened at six film festivals and has won at two. His third short Agent Hollywood premiered at his own international film festival in 2016 when he was 11 years old. It is co-produced and co-directed by his former basketball coach Michael Forstner. Agent Hollywood is about a young celebrity actor who is really an undercover agent with a mission to save the world. Anthony Michael Hobbs will premiere his forth short, a documentary, at the 2018 Imagination Lunchbox International Film Festival held at the Parkway Theatre in Baltimore.
For more information about the ILIFF or to submit a short film you can log onto the website at www.ImaginationLunchbox.com or www.anthony-michael.com. You can also contact the festival at ImaginationLunchbox@gmail.com.

# # #


Eunice Moseley


Create Your Badge