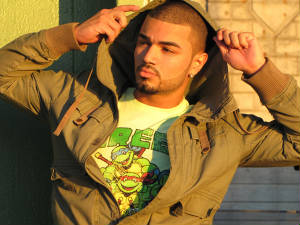 (New York, NY) - Tyler Jacob is back with a new cover. This time taking on the emotional Ed Sheeran track, "Dive". There are many singers trying to make it in the music business. But a voice this special only comes along once in a lifetime. It has been a long journey from Tyler Jacob's days of growing up in Camden, New Jersey. However, he is ready to take his rightful place as one of the music industry's most gifted and versatile vocalists.

At the age of 5 years old, Tyler Jacob started singing and performing in school plays. Tyler says that "I've always wanted to sing. It was a natural thing for me." His family recalls little Tyler putting on shows in the family living room.

But it wasn't until his freshmen year in high school did he realize others thought he had a gift, when he was accidentally placed in a choir class. After the choir teacher heard Tyler's voice, she had him transferred to Creative Arts High School (CAHS) in Camden, New Jersey.

Tyler's passion to sing, write and perform his own music, in English and Spanish, pushed him after he graduated from CAHS. He has gone on to win numerous talent shows, opened up for Grammy Award winner, Brandy and logged studio time with Carvin & Ivan (Chris Brown, Musiq Soulchild, Mario), and Andrea Martin (Leona Lewis, Monica, Mary J. Blige). Tyler Jacob has also been featured on some of the hottest blogs including ThatGrapeJuice.net, MusicXclusives.com, SingersRoom.com, Kiddunot.com, YouKnowIGotSoul.com, SoulRnB.com, Meddlin.fr, TrueExclusives.com and countless others within the United States, Asia and Europe. The radio community also has embraced Tyler Jacob's music (Urban Latino Radio, WKRB 90.3 FM, Kempire Radio). And he has graced some of NYC's most legendary stages, including The Village Underground, The Bowery Poetry Club, W.i.P/Greenhouse Nightclub and BB Kings.