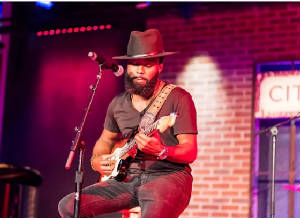 Soul Singer Antoine Dunn Returns to NYC for an Intimate Evening of Music in Manhattan
(Baltimore, MD) - Soul musician Antoine Dunn recently performed in New York City for an Acoustic Soul Sessions, an intimate experience at The Jam Nest. Since his debut on the national music scene, Dunn has been no stranger to the New York music scene having played the legendary Beacon Theater, SOB's and other venues around the city. Chrysler Hall, Constitution Hall, and the Greek Theater are just a few of the national venues that have hosted Antoine's performances over the years.
The Billboard chart toping recording artist and multi-instrumentalist is making waves with the latest music video release for his song, "October 7th". The acclaimed video has been picked up by New York-based music blog, YouKnowIGotSoul and various other online music outlets around the world. The video also features a guest appearance by New York native, and established Hollywood actor, Monte Bell.
UPCOMING SHOWS & APPEARANCES:
- New York, NY | Thursday, November 30th 7pm - The Quiet Storm LIVE with Lenny Green Brooklyn Chop House (150 Nassau St New York, NY 10038)
- New York, NY | Friday, December 1st 7:30pm - Acoustic Soul Sessions The Jam Nest (213 West 35th Street Suite 304 New York, NY 10001) TICKETS:https://www.eventbrite.com/e/acoustic-soul-sessions-nyc-feat-antoine-dunn-intimate-rb-experience-tickets-750594015907?aff=erelexpmlt
- Washington, DC | Thursday, December 21st 7pm - Frank Ski Holiday Party MGM National Harbor (101 MGM National Ave. Oxon Hill, MD 20745)
Watch October 7th Official Music Video:
https://www.youtube.com/watch?v=D1eaq10IRW0
Harvey Marie Records is now accepting interview requests and bookings for Dunn's 2024 schedule. Interested parties should Contact: info@harveymarierecords.com. Additional information, including current news and show dates, are available at www.HarveyMarieRecords.com.
# # #
(Source: Harvey Marie Records)