NEWS

Keyshia Cole to Executive Produce and Star in The Lifetime Biopic 'Keyshia Cole: This Is My Story'


(New York, NY) - Multiple Grammy Award nominee Keyshia Cole (Keyshia Cole: The Way It Is) will executive produce and make her acting debut, playing herself, in a new Lifetime biopic. The biopic is following her early days in Oakland honing her musical talents to her rise to a multi-platinum selling recording artist and television personality, to her complicated yet warmhearted relationship with her mother Frankie Lons played by Debbi Morgan (All My Children).

Premiering Saturday, June 24, 2023 as part of Lifetime's celebration of Black Music Month at 8p/7c, "Keyshia Cole: This is My Story" is directed by D'Angela Proctor (Line Sisters) and Manu Boyer (Girl in the Basement) and features a new song recorded by the singer/songwriter titled Forever is a Thing. Ron Fair, Keyshia Cole's long-standing A&R and music collaborator supervised the music and Grammy Award winner Warryn Campbell composed the original score.

Keyshia Cole: This Is My Story joins Lifetime's roster of highly successful musical biopics including Robin Roberts Presents: Mahalia, Patsy & Loretta, The Clark Sisters: First Ladies of Gospel, Toni Braxton: Unbreak My Heart, Whitney and Life is Not a Fairytale: The Fantasia Barrino Story.

"This is a story of a daughter's love for her mother and although my heart remains broken from her untimely passing I am honored to be sharing it with the world," said Cole. "Playing the role of myself was a unique opportunity to re-live special moments in my life that also gave me the chance to process her loss in ways I did not expect. I miss her every day and even though she is not here, her presence was felt throughout this film. Mom, I love you."

Born in Oakland, California, Keyshia Cole was raised in a single parent household by her adoring mother Frankie (Morgan) but at the age of two, Keyshia was placed into foster care due to Frankie's struggle with substance abuse. Keyshia was then adopted by her foster parents, Leon (Joseph C. Phillips) and Yvonne Coles (Tonia Jackson) and as a teen, Keyshia traveled to Los Angeles multiple times to pursue her dreams of becoming a singer, even providing background vocals for MC Hammer. Her path into a music career put her at odds with Leon and Yvonne, who kicked her out when she didn't follow their rules. Left to fend for herself, Keyshia's voice saved her from her nomadic lifestyle and she eventually returned to Los Angeles where at the age of 21, she was signed to A&M Records by Grammy award nominated producer and music executive Ron Fair. Keyshia went on to become a multiple-award winning, chart-topping artist who fused R&B and Hip Hop. As her star began to rise, Keyshia was still faced with traumas of not knowing who her biological father was but found family again when she was reunited with Frankie and sisters Neffe (Cindi Davis) and Elite (Brittney Level). Despite the success of her music and hit television shows following her life as an artist, mother, wife and daughter, Keyshia struggled to keep Frankie in rehab and tragically, her worst fear became a reality when she lost her to an accidental opioid overdose in 2021 on Frankie's 61st birthday. Keyshia Cole: This is My Story is a story of childhood trauma, tragedy, complexity of love and overcoming obstacles to become the best version of oneself. The movie is dedicated in honor and memory of Frankie.

Keyshia Cole: This is My Story is produced for Lifetime by Swirl Films and Big Dreams. Executive producers are Eric Tomosunas, Leslie Greif, D'Angela Proctor and Keyshia Cole. Co-Executive Producer is Ron Fair. D'Angela Proctor and Manu Boyer direct from a script written by Angelica Cheri.




# # #

(Source: CR8 Agency)

NEWS

Lucinda Moore To Release 'God, You've Been Faithful' Single Featuring Tramaine Hawkins On March 31, 2023, Readies for Next Album

(Bridgeport, Conn) - Stemming of the recent success of her #1 Mediabase Gospel Radio chart single "Lord, I Hear You," songstress Lucinda Moore pushes the momentum with more incredible music with the "God, You've Been Faithful" single featuring Tramaine Hawkins. As one of Gospel music's hardest-working women, Lucinda has been in the studio working on her forthcoming album nonstop, which the single preceeds.

Lucinda's new single, "God, You've Been Faithful," has her collaborating with Tramaine's signature vocals of power, poise, and anointing. These two leading ladies unify sonically while bridging two generations of Gospel music together, signifying the legacy of a genre gracefully guiding the next heir into position.

Lady Tramaine Hawkins' career spans over five decades and began as a teen singing with The Edwin Hawkins Singers. She is a multiple Grammy, Dove, and Stellar Award winner with a discography of iconic hits including "Changed", "The Potter's House" and "Goin' Up Yonder."

"God, You've Been Faithful" will be available on all digital outlets on March 31, 2023. The single and forthcoming album "Lord, I Hear You" will be release via Lucinda's independent label Nalah Music Group with distribution by New Day Christian Distribution and The Orchard.

Lucinda will be a special guest performer at the upcoming "She Is" Virtual Empowerment Summit presented by Radio One's Praise 104.1FM and Magic 102.3FM - Washington, DC. Watch the summit online and experience the power and praise of Lucinda Moore.

(Source: The Bellemy Group)

Dr. Westbrooks' interview with Dr. Eunice Moseley

(Freelance Associates/The Pulse of Entertainment)

is Chapter 26th. Available at Amazon.com

R&B/Jazz Trumpeter-Vocalist Johnny Britt Taps into Star Power for 'After We Play'

Urban/Jazz trumpeter-vocalist Johnny Britt released his fifth album "After We Play" on J-Jams Records. Britt wrote ten new songs and produced the thirteen tracks on which he plays with an array of luminaries. The collection starts off on top as the title cut featuring guitar star Peter White recently went No. 1 on two national singles charts.




The recent Presidential Lifetime Achievement Award recipient will launch his multi-genre album at two Los Angeles-area record release concerts March 26, 2023 at The Venice West and April 6th at the Catalina Jazz Club.




Simultaneous to the instrumental single "After We Play" summitting the Mediabase and Smooth Jazz Network charts, Britt's vocal ballad with Will Downing, "Butterflies," entered the top 50 on the R&B singles chart and is soaring skywards.




According to Britt, the title song, a sultry midtempo flugelhorn and guitar duet captured in this video (https://bit.ly/42hyyC7), sets up the entire album. There are many marquee moments to embrace from the album, including a dreamy version of "Goin' Out of My Head" that finds Britt in the company of greats. He croons the song with Rock & Roll Hall of Famer Little Anthony who sang the original version with The Imperials with whom Britt has been singing as first tenor since 2012. Gracing the tune with cool electric jazz guitar is ten-time Grammy winner George Benson. SoulTracks recently world premiered the track, the type of collaborative recording that begs for Grammy attention.




The album opens with the twin trumpet powered "Ain't Nothin But The Funk" spotlighting the horns of Britt and Tom Browne. Nine-time Grammy nominee Gerald Albright thumps his bass on "Summer Love," an affair heated by Kashan's mid-cut rap. "Ocean Waves" washes over like a sensual caress, thanks to Britt's sultry voice and muted trumpet along with sinewy bass and Piccolo bass work from Blair Bryant. The album's second remake is a haunting take on the Bacharach & David classic "Walk On By," given an ethereal treatment on which Britt handles all the vocals and instrumentation except for drums. Ricky Peterson adds piano, organ and strings accoutrements to illumine the positive affirmation that is "Hold On Be Strong." Billboard hitmaker Nils teams with Britt for "Let's Do This," an empowering horn and guitar instrumental that bodes to become a chart topper. "Love Paradise" is a heavenly slice of the best of Britt: a funky R&B groove, a splash of contemporary jazz nuance, and a vibrant pop hook. Nils reappears on "Midnight," but it's Britt's flugelhorn that shines brightest. The seductive "More Love" is an amorous late-night mood setter. "After We Play" closes with an instrumental version of "Love Paradise."




Britt will embark on a three-month U.S. concert trek this summer with Little Anthony on the Happy Together Tour. Before then, he will support the release of "After We Play" on the following dates:




March 26

The Venice West

Venice, CA

March 30

Middle C Jazz Club

Charlotte, NC

April 1

The Tin Pan

Richmond, VA

April 6

Catalina Jazz Club

Hollywood, CA

# # #

(Source: Great Scott PR)

NEWS

Actors Marita de Lara, Steven Littles, Rama Montakhabi to Speak at the ULMII Entertainment Conference April 15, 2023





(Baltimore, MD

) -

Actors

Marita de Lara

("General Hospital"),

Steven Littles

("Nip/Tuck"), and

Rama Montakhabi

("BMF") will serve on the panel of the 24th annual Baltimore "Uplifting Minds II" Entertainment Conference Saturday April 15, 2023, from 1 - 3pmEST/10 - 12pmPST via Zoom. The ULMII Entertainment Conference offers a professional panel of industry professionals for a Q&A Session and to judge the conference's National Talent Competition worth over $18,000 in cash, products and services for the 1st, 2nd and 3rd place winners, and a Professional Talent Showcase of artists signed to independent record labels and agencies.

Celebrating 24-years of service to the community, the ULMII Entertainment Conference is free and held virtually from Baltimore. There are nine other panelists serving on the ULMII panel that will be announced soon.

Aside from a recurring role on General Hospital Marita de Lara's credits also include "Hawaii Five-O," "The Shield," "Days of Our Lives," and "One Life to Live." Steven Littles, aside from a role on Nip/Tuck, credits include Glass Trap, The Man from Earth, "The Mentalist," and Mad World. Rama Montakhabi, aside from a role in the Curtis "50 Cent" Jackson drama "BMF," her credits include Creed III, Tomb Raider: Voice from Beyond, and Raiders: Croft vs. Jones.

The cash, products and services to be made available to the ULMII national talent competition winners - 1st, 2nd and 3rd place - include music contract consult from Consul Paul Gardner, II (TheGardnerLawGroup.com); a package of music contracts from Attorney Richard Jefferson (LawyersRock.com); recording studio time and music track from music producer V.I.P. (DustDemAFF.com); artist management consult from Artist Manager Dr. Kerri Moseley-Hobbs (Anthony-Michael.com); vocal or acting coaching from Artist Development Specialist Nadiyah Kareem (Superstar Enter); mixing and mastering from music engineer/producer Jay Wiz (Blaze4GloryMusicGroup.com); business or public relations consult from Business Strategist/Consultant Dr. Eunice Moseley (ThePulseofEntertainment.com); dance scholarship from the Debbie Allen Dance Academy (DebbieAllenDanceAcademy.com); vocal or stage coaching from Soprano Opera Singer Chery Warfield (MoreOpera.com), and cash sponsored by Freelance Associates (ImaginationLunchbox.com and MoreThanaFraction.org).

For more information or if interested in performing in any of the showcases log onto www.UpliftingMinds2.com or email info@thepulseofentertainment.com.


###

(Source: Freelance Associates)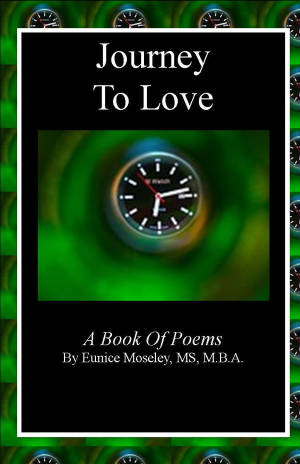 "Journey to Love" by Eunice Moseley now Available at Barnes and Nobles.