| | |
| --- | --- |
| | |
The Pulse of Entertainment: Paramount's Instant Family is Hilarious and Warner Bros' Fantastic Beasts 2 is a Mystical Cliff Hanger

"Whenever we make a movie we use real issues," said Sean Anders (Horrible Bosses), director and co-writer of the new Paramount Picture presentation of Instant Family starring Academy Award nominated Mark Wahlberg (Transformers) and based loosely on Sean's own life experience adopting siblings arriving in theatres November 16, 2018. When asked why he put that experience on screen Sanders said, "It had been a few years since we adopted the kids...thought it kind of funny."

Instant Family, arriving in theatres November 16, 2018, was indeed funny in fact it was beyond funny it was hilarious. It follows Pete (Wahlberg) and his wife Ellie, played by Emmy nominated Rose Byrne ("Neighbors"), a childless couple realizing their need to nurture a baby. They decide to adopted and care for ...Read the full November 16, 2018 column...>

The wizard tale birthed from the Harry Potter saga called Fantastic Beasts returns with a second take on the story with the Warner Bros. Pictures presentation of Fantastic Beasts: The Crimes of Grindelwald arriving in theatres November 16, 2018. Fantastic Beasts 2 is the 10th installation of the wizard world franchise. Eddie Redmayne returns as Newt Scamander the Minister of Magic with Johnny Depp (Pirates of the Caribbean) starring as Dark Wizard Grindelwald and Jude Law as Dumbledore the professor of wizardry who hires Redmayne to take care of the dark wizard problem, a task only he is qualified for.

The Rated PG-13 drama/fantasy is a mystical cliff-hanger that will keep you on the edge of your seats and it has an ending that will leave you wanting more. It follows Eddie's attempt at finding Grindelwald with his friends in tow that include Jacob Kowalski (Dan Folgler), Tina (Katherine Waterston) Newts love interest and Leta Lestrange (Zoe Kravitz) as Newts' brother's love interest and

Rev Run and Justine Simmons, Lionsgate's Sandra Stern, NCIS' Chas. Floyd Johnson Among Honorees at
'The Caucus For Producers, Writers & Directors
36th Annual Caucus Awards Dinner'

(Los Angeles, CA) - The Caucus for Producers, Writers & Directors' 36th Annual Caucus Awards Dinner is gearing up for an enchanting night on Friday, November 30, 2018, 6:30 PM at the Skirball Cultural Center (2701 N. Sepulveda Blvd, Los Angeles, CA 90049). Honorees will be Joseph "Rev Run" Simmons (RUN DMC) and wife Justine Simmons ("Runs House") with the "Entertainers of the Year Award," Sandra Stern the President of Lionsgate Television Group with the "Executive of the Year Award," Emmy Award winner Chas. Floyd Johnson, Executive Producer for CBS Television Studios ("NCIS") with the "Caucus Lifetime Achievement Award." Jake Rademacher founded of Metanoia Films with the "Distinguished Service Award," and Penny Rieger Administrator for "The Caucus for Producers, Writers & Directors" with the "Chair's Award." James Pickens, Jr. (ABC's "Grey's Anatomy") will be the host of the event.


ABC Orders More 'The Rookie' Episodes Starring Nathan Fillion

(New York, NY) - ABC Television has picked up seven additional episodes of the American crime drama "The Rookie" starring Nathan Fillion and Eric Winter (left). The additional episodes brings its first season to a total of 20. This is considered a full season by ABC.

VIDEO CLIP OF THE WEEK

The Pulse of Entertainment covered the red carpet arrivals at the 27th "Living Legends Awards Gala" and intervieweed Grammy nominated Eddie LaVert (The OJays) pictured with his wife Raquel, Sylvia Rhone President of Epic Records, Dave "Hurricane" Smith Radio One Atlanta's VP of Programming and Operations) and more. Watch coverage below!
SPOTLIGHT of THE WEEK
"WILL DOWNING"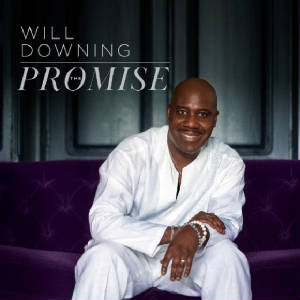 (New York, NY) - Will Downing, The Prince of Sophisticated Soul, experienced the power of God and prayer that turned everything around against all odds n late 2007, in the very prime of his life with auto-immune disease polymyositis. Twelve years later, Will Downing is a walking, singing testimony of the power of faith and prayer. He delivers on his promise to Godwith his new CD, "The Promise", an inspirational album-actually his first Gospel album -- to be released November 9, 2018 by Shanachie Entertainment.
Though
"The Promise",
will likely be categorized as aGgospel album or a Praise and Worship" album and while those elements are there, such categorization misses the larger intent. The album is Downing's heartfelt 10-song thank you letter to God for bringing him back from the edge of darkness into His marvelous light. Will Downing taps previously unrevealed aspects of his talent to step boldly outside of his "Prince of Sophisticated Soul" persona to pour raw unblinking emotion into a musical re-creation of his journey from hospital bed to wheelchair and ultimately back to the stage. In short, this is a Will Downing no one has heard before in his now 30-plus year career, as one who stared down his own mortality and emerged, through faith, on the other side, blessed to continue to do what he does best.
From the first notes of
"The Promise",
Will Downing takes us to church with the initial piano and organ chords of the opening track "Take It To The Cross." This toe-tappin', hand-clappin' kick-off sets the perfect tone with the message to take your burdens to the Lord. The opener is followed by the album's first single, "Look At Yourself (In The Mirror)," a thumping horn-driven reminder that while God is omni-present, He allows each of us to find him in our own way. The message is clear: you are the total sum of the choices you make in this life. To that end, be the change you want to see in your self, so that you can look at yourself in the mirror and be pleased. "I Hear A Voice" delivers the spiritual impact of the moment when Downing knew his prayers had been heard and his fight was not his own-that moment when God speaks to your heart and lets you know He's with you and will see you through, the turning point of Downing's "test."
A striking thing about
"The Promise"
is that musically even as Downing ventures into the gospel realm, he does so on his own terms, forging a music distinct from typical gospel sounds but maintaining the essence of his unique style. Perhaps the most deeply personal song on the album is "You Blessed My Life," a kind of gospel ballad. It's a slowed down and stripped down, full-blown love song with Will singing directly to God in humble gratitude for his entire life's journey-the ups as well as the downs. He delivers the song with unashamed, tearful sincerity that grows with every measure, a sincerity that is all-too-rare in popular music these days. "God Is So Amazing" truly embodies the miracle of Downing's recovery. This song originally appeared on the "After Tonight" release which was begun just before and continued just after the polymyositis diagnosis. A close listen to that release reveals a variety of colors in the strength and tone of Downing's signature baritone from one song to the next, especially on the original version of "God Is So Amazing," which was recorded in determined fashion from a hospital bed. The re-recording of this song for
"The Promise"
is sterling testament to the faith of a man who could praise God as much at the height of his illness as he did in full recovery.
"The Promise"
concludes in a nod to the classic Will Downing sound as he duets with Regina Belle, an R&B diva of great faith. And thus, with this moving new album, Will Downing fulfills his promise to God.
Born in Brooklyn, NY in 1963, after attending college in Virginia, Downing moved back to New York City finding work as a session singer. Signed to Island Records he broke through in 1988 with the album Will Downingon Island's 4th & Broadway label; his distinctive version of John Coltrane's "A Love Supreme" hit #4 on Billboard's Hot Dance Club Songs chart. There followed a string of best-selling albums that established Downing as one of those rare artists who could blend R&B with a jazz sensibility, all delivered with a gorgeous, rich baritone that stood out from amongst the popular singers of the day. The sheer quality and uniqueness of Downing's artistry meant that his albums sold hundreds of thousands of copies even if there was no radio hit. Indeed in 2000 he won a Grammy award in the Best Traditional R&B category for his album "All The Man You Need."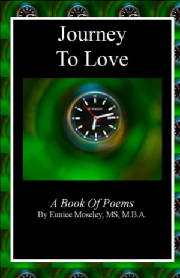 "Journey to Love" by Eunice Moseley now Available at Barnes and Nobles.